This Cyber Monday, get my courses at tremendously affordable prices! I can offer you this much discount only once a year, so if you are interested in learning Japanese online take advantage of this opportunity. The offer ends on Friday, December 1, 2017. Here are Cyber Monday deals 2017 from Smile Nihongo Academy!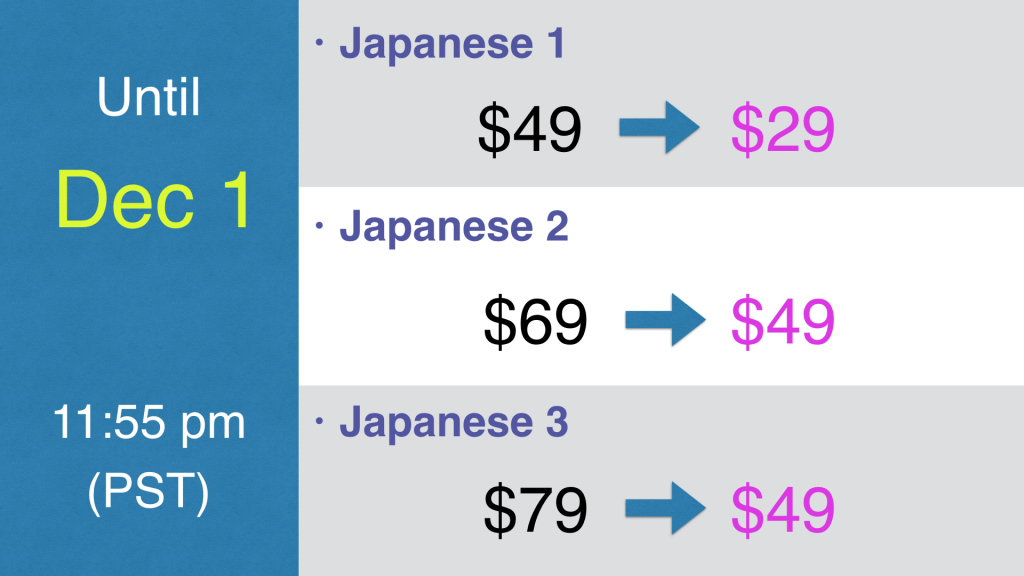 Cyber Monday Deals
My courses are already very low priced for the information and materials you receive, so I rarely do discounts. The cheapest way to get it when I release the course for the first time. These Cyber Monday Deals are the second cheapest. See the descriptions below and see what course fits your current level. Be sure to preview a lesson from each course to see if my teaching style matches your learning style. If you like what you see, enroll in the course while the price is the lowest during this particular time of the year!
---
Japanese 1 –
Basic Japanese for Beginners 1
Original Course Price $49 → $29  

[Sign Up HERE]

In this course, you will learn how to say basic information about yourself or other people such as age, occupation, nationality, hobbies, etc. You will also learn how to carry a simple conversation in Japanese to introduce yourself.
Japanese Voiced Sounds

Japanese Glides (Contracted Sounds)

Daily Expressions

Culture Quiz – Do you know these facts about Japan?

Numbers – Let's learn 1 to 99

How to say "years old"

Your Name in Japanese

Talk about others – "My mom is Japanese"

Talk more things – "I'm originally from Kyoto"

How to ask questions "Are you American?"

Particle NO – "My girlfriend is a math teacher"

Particle MO – "Mike is also a Nintendo employee"

Practice in a Sample Dialogue

      Preview Lesson 7  HERE.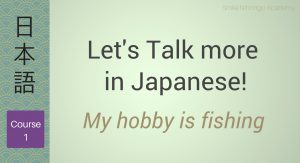 ---
Japanese 2 –
Basic Japanese for Beginners 2
Original Course Price $69 → $49  

[Sign Up HERE]
This course is full of useful phrases and vocabulary which you can use when you visit Japan! You will learn the difference Informal & Formal speech, how to ask basic questions such as "What is it?" "Where is it?" "How old are you?" "How much is it?" and much more. You will also learn bigger numbers (10,000s) so that you can count Japanese money, YEN.
What is the difference between Formal and Informal speech?

How to say phone numbers

My hometown – KAGOSHIMA

"What is it?"

"What is it?" – Informal Version

Speaking Session

"What time is it?"

What time & What day – Informal Version

Japanese Children's Story – Mr. Crow's Bakery

"How old are you?"

"How old are you?" – Informal Version

Numbers – 100s, 1000s, & 10,000s

"How much is it?"

"When is your birthday?"

"Where is the restroom?"

Dialogues in Japanese

      Preview a lesson HERE.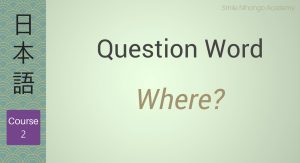 ---
Japanese 3 –
Verbs and Particles
Original Course Price $79 → $49  [Sign Up HERE]
In this course, you will learn the real control over the Japanese language. The course covers the basic sentence structure of Japanese and what you need to know to be able to make your own sentences. Japanese Verbs are introduced and how to use them properly to avoid you from sounding like a child. You will also learn how to use Particles and how crucial they are in Japanese.
Word Order doesn't matter in Japanese (Really???)

What Form of Verbs you need to use (if you don't want to sound like a child)

How Do I Make MASU-Form?

How to Add Time Expressions to your sentences

Negative Sentence – "My father does NOT drink coffee"

Frequency – "I often eat fish"

How to ask Questions – "Do you watch Japanese movies?"

Place of Action – "I do Internet at the cafe"

Destination – "I often go to the cafe"

Verb Past Tense – "Last year, I went to Japan"

      Out of the three courses I offer, this course provides the more PDF materials too since the content deals with more complicated stuff.

Preview Lesson 1 HERE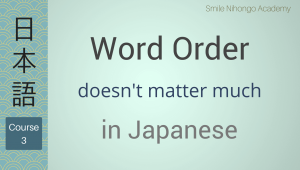 ---
Who is the Sensei (teacher)?
For those who don't know about me much, I am a native Japanese instructor with many years of teaching experience to mainly English-speaking learners. I specifically majored in Japanese Pedagogy (teaching Japanese as a foreign language) in the graduate school and after I received my M.A. degree, I have been teaching Japanese for 17 years.  Here is a video briefly explaining where I am originally from, how I came to America, how I became a Japanese teacher, and my journey as a Japanese college instructor. Again, the Cyber Monday deals are going to end at 11:55 PM, Friday, December 1 (Pacific Standard Time).
Japanese 1 … $49 →
$29

Japanese 2 … $69 →
$49

Japanese 3 … $79 →
$49

Looking forward to having you onboard in my online courses! ゆうこせんせい Yuko-sensei