Hotaru no Hikari (蛍の光 – ほたるのひかり)is a Japanese song incorporating the tune of a traditional folk song in Scottland, Auld Lang Syne.
In Japan, the song is considered a farewell song due to its lyrics. The title, Hotaru no Hikari literally means "Light of Fireflies" which is illustrated as a source of when a poor student did not have any other lighting source to study. In summary, the first verse is about students spending days with one another as trying to keep studying under a poor circumstance and say Goodbye at the end of school years. This is why many schools in Japan sing this song at the graduation ceremony.
On the New Year's Eve, on a nation-wide popular TV show Kohaku Uta Gassen (Red-White Year-End Song Festival) on NHK, all the performers gather on the stage and sing Hotaru no Hikari as the last song around 11:55 PM. It is a tradition to close the show with the song as the current year draws to an end.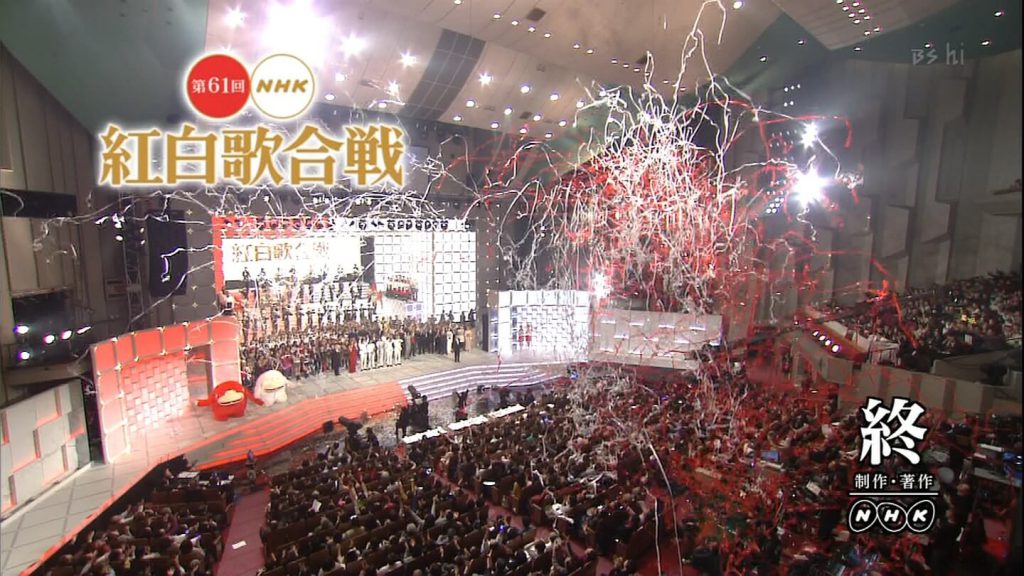 Hotaru no Hikari Song Lyrics
ほたるのひかり
Hotaru no Hikari (Light of fireflies)
まどのゆき
Mado no Yuki (The sight of snow from the window)
ふみよむつきひ
Fumiyomu Tsukihi (Buried in books)
かさねつつ
Kasanetsutsu (We spend days together)
いつしかとしも
Itsushika toshimo (Without notice, years has gone by)
すぎのとを
Sugi no to wo (Now we open the door)
あけてぞけさは
Aketezo Kesa wa (And this morning)
わかれゆく
Wakareyuku (We say Goodbye)