Konnichiwa! Today we are going to learn how to write Japanese Hiragana K Group – か、き、く、け、こ.
If you are not familiar with the basic rules of hand-writing Japanese letters, such as three types of stroke ending, please read How to Write Japanese Letters first.
Watch the video below for today's lesson. It will walk you through how to write each Hiragana letter accurately and beautifully.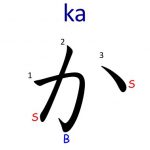 か has three strokes. Make sure to place stroke #3 nicely over the right shoulder of stroke #1. The brush-up ending of the first stroke marks the bottom line of this letter. The tip of stroke #2 should never exceed that line. 
The sound of か is the combination of [k] and the vowel [a], hence [ka]. Note that the Japanese [k] sound is less forceful than the English [k] sound. 
---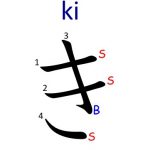 きhas four strokes. #1 and #2 are almost the same lengths and slightly going up toward the right. Don't forget the brush-up ending for stroke #3. 
The model on the left is the hand-written version of き. Do you notice that the き I'm typing here looks a little different from the model? This [ki] –>き is a printed font version where stroke #3 and #4 are completely connected. Do not write your き [ki] like that. 
The pronunciation is similar to "key" with the vowel being shorter. 
---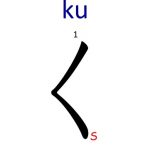 くhas only one stroke and is very easy to write. Just try to make it tall and slender. This letter doesn't have much width. 
The shape of く somewhat looks like the beak of a bird. 
The pronunciation [ku] is similar to the first syllable of "cuckoo" so, it may help you remember this letter as "the beak of a cuckoo."
---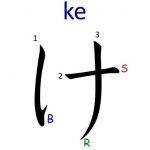 け has three strokes. Stroke #3 is slightly longer than stroke #1. Both #1 and #3 are gently curved inward. 
I sometimes see my students add a hook (brush-up) at the end of #3. I don't know why they do it, but it will make your [ke] look totally unrecognizable as け. Be sure not to do this.
The pronunciation [ke] is similar to the sound of [ca] in the word "cane." 
---
こ has two strokes. Keep adequate space between the two strokes so the letter looks tall enough.
Making こ look rather short and chubby is a common tendency I see among my students. Their こ looks like two hamburger buns sitting flat with small space left in between. Please watch the video  above and be careful not to write your こ like that.
The pronunciation is similar to the sound [co] in "Coke."
---
How to Spell "G" Sounds
Now that you have learned かきくけこ [ka, ki, ku, ke, ko] in Hiragana, you can spell [G] sounds, which are [ga, gi, gu, ge, go]. What you have to do is to add two tiny strokes (almost looks like dots) to the upper right corner of かきくけこ as you see below.

The two additional strokes are called 濁点(だくてん)"dakuten" in a linguistic term. In more common term, they are called てんてん "ten ten" (Lit., "dot-dot").
Adding "ten ten" to [ka, ki, ku, ke, ko] transforms the [k] sounds to voiced and heavier sounds, hence the [g] sounds.
You can use this trick to other consonants, for example, to make [s] to [z] sounds or [t] to [d] sounds, which is going to be covered in the later lessons.
---
Go at Your Own Pace!
I hope this lesson helped you learn how to write Japanese Hiragana ka, ki, ku, ke, ko かきくけこ as well as ga, gi, gu, ge, go がぎぐげご.
You are making great progress. Keep moving forward!
You shouldn't rush yourself, just take one letter at a time. Be sure to practice writing that single letter over and over again until you feel comfortable with it, and then move onto the next letter.
At a college I teach, we have a set schedule, of course, and I sometimes feel bad that I am unable to give the class more time to cover Hiragana. Some are very quick to master letters, and some aren't. Everybody has his/her own pace and we normally cannot accommodate each student's pace at an institution.
But this is an online learning community so I don't have to worry about rushing you.
Honor your own pace, just make sure to continue, and practice writing every single day, even for 5 min daily. A constant effort is indispensable to master Japanese letters.
If you need a practice sheet, provide your name (nickname is fine) and email address. I will send them to you.
Feel free to leave a comment or questions below.
Happy learning!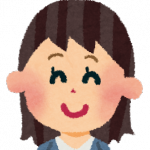 裕子先生(ゆうこせんせい) Yuko-sensei