Let's Read Japanese Stories for Kids!
---
Reading Japanese stories for kids written in Hiragana by a real Japanese author is a great way to improve your reading skills. Today I want to read a book for you that I recommend as a Japanese reading material. The book is called Karasu no Panyasan. (Mr. Crow's Bakery)
In the video below, I intentionally read the story at a slower speed and clearer pronunciation for you. It will be a good listening comprehension practice for you.
The Story
---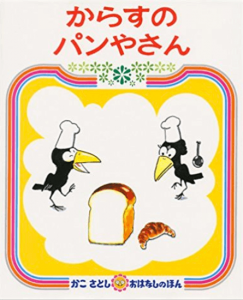 The forests IZUMIGAMORI is a home to many crow families. Mr. Crow owns a bakery in the forest with his wife.
They just had four babies. Interestingly, the babies weren't born to be black, but they all had different colors. They are white, yellow, red and brown. Mr. Crow and his wife named them each Omochi (rice cake), Lemon, Ringo (apple) and Choko (chocolate) and cared for them with lots of love.
The life of parents with newborn babies is rough. Dad and mom have to attend the four babies even during the working hours and their business suffered. Gradually, the bakery started losing customers. They became poor.
Nonetheless, the four children grew up rapidly. The burnt bread or leftovers from the store served as their daily snacks.
One day, when the four kids were eating their snacks, their friends flew over and asked, "The bread you're eating looks kinda unusual." One of Mr. Crow's children answered, "They are special. These are breads that only my dad can bake!" "How's the taste?" "Delicious, of course! Why don't you try some for yourself?"
All the friends were curious and tried Mr. Crow's bread. They reacted right away saying, "True, this IS delicious! I'm going to come to your dad's store to buy this. Tell him to save some for me!"
The four kids delightfully delivered this news to their father. Mr. Crow agreed to bake bread for their friends, but he also told them that they need to help. The children willingly helped their father to bake delicious bread. Working together, they ended up baking so many good looking breads in different shapes and different flavors.
The next morning, as soon as they opened the shop, all the crow children in the forest hurried to Mr. Crow's Bakery, and…
About the Book & Author
---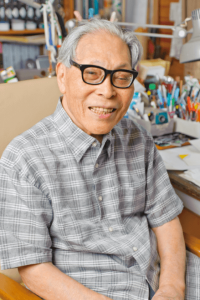 This book was originally published in 1973 by 加古里子(かこさとし)Satoshi Kako who was born in 1926 in Fukui Prefecture, Japan.
He received a Ph.D. in Engineering from Tokyo University and worked as a chemical engineer for many years. After he retired, he devoted his life to the study of literature for children and published over 500 works.
"Karasu no Panyasan" was the first book Kako published in the "Karasu (Crow)" series in which he is best known for.

---
Vocabulary
からす Karasu – crow
もり mori – forest
き ki – tree
うえ ue – above, on top, up
みんな minnna – all, everyone
うち uchi – house, home
さんちょうめ sanchoome – the third district
かど kado – corner
パンやさん panyasan – bakery
おみせ omise – store, shop
よんわ yonwa – four (birds) … わ wa is the counter for birds
かわいい kawaii – cute
あかちゃん akachan – babies
からだ karada – body
いろ iro – color
くろ kuro – black
ちがった chigatta – different
おとうさん otoosan – father
おかあさん okaasan – mother
さっそく sassoku – immediately
なまえ namae – name
やさしく yasashiku – gently
あさ asa – morning
こな kona – flour, powder
かまど kamado – oven
パン pan – bread
ときどき tokidoki – sometimes
そうじ sooji -cleaning
しかし shikashi – however
おっぱい oppai – breast milk
おしめ oshime – diaper
びんぼう binboo – poor
しんぱい shinpai – worry, concern
どんどん dondon – rapidly, quickly
つぎ tsugi – patch
ふく fuku – clothes
いたずら itazura – mischief
おおいそがし ooisogashi – extremely busy
いっしょうけんめい isshoukennmei – dedicated, committed, desperately, frantically
こげた kogeta – burnt
はんやき hanyaki – half-baked
おやつ oyatsu – snack
こども kodomo – children
いつも itsumo – always
かわった kawatta – unusual, different
せかいじゅう sekaijuu – in the whole world
あじ aji – taste
うそ uso – lie
ちょっと chotto – a little bit
にがい nigai – bitter
こうばしい koobashii – nice-smelling of baking or roasting, appetizing, savory
あした ashita – tomorrow
たくさん takusan – a lot, many
やくそく yakusoku – promise
ほしい hoshii – desire, want
てつだう tetsudau – to help
ほかほか hokahoka – fresh out of the oven or stove
こんがり kongari – done to a beautiful brown, beautifully browned, perfectly baked or flied
よくじつ yokujitsu – the next day
おおぜい oozee – many
ちょうだい choodai – give me
やすい yasui – cheap
まいにち mainichi – everyday
いろんな ironna – various
ちいさな chiisana – small, tiny
すてきな sutekina – lovely, neat
どっさり dossari – lots and lots
おもしろい omoshiroi – interesting
めがけて megakete – aiming at
おと oto – sound
ねぼけた neboketa – half-asleep
うりだし uridashi – sale
よくばり yokubari – greedy
いれもの iremono – container
あわてんぼう awatenboo – hurry-scurry, panicked, helter-skelter
しょうぼうしょ shooboosho – fire station
でんわ denwa – telephone
かじ kaji – fire (as an incident)
けがにん keganin – injured people
きゅうきゅうしゃ kyuukyuusha – ambulance
そうどう soodoo – chaos
ぶそうけいかん busoo keekan – armed policemen
れんたい rentai – a regiment
じけん jiken – accident, incident
どろぼう doroboo – burglar
あっかん akkan – evildoer, rascal, villain
ギャング gyangu – gang
ピストル pisutoru – pistol
しんぶん shinbun – newspaper
とくはいん tokuhain – representative, delegate, correspondent
カメラマン kameraman – camera man, photographer
こえ koe – voice
みっつ mittsu – three … counter for bread
かざぐるま kazaguruma – windmill, pinwheel
けんぶつ kenbutsu – sightseeing, visit, viewing
きちんと kichinto – neatly
ふしぎなことに fushigina koto ni – strangely
けんか kenka – fight, argument, quarrel
きまりがわるい kimari ga warui – feel embarrassed, feel sheepish
にこにこ nikoniko – smilingly
ひょうばん hyooban – sensational, with good reputation
りっぱな rippana – splendid
すばらしい subarashii – wonderful
におい nioi – scent, smell
もしかしたら moshikashitara – perhaps, by any chance
Why Is This Story so Special?
---
I hope you enjoyed this story, からすのパンやさん "Karasu no Panyasan." Do you see why this particular story has been loved by Japanese for over 4 decades? Those who used to read this book as a little child have grown to be a parent and are now reading it to their children.  I would love to hear your thoughts on this. Would you read this book to your own child? Why or why not? Feel free to share your comments below!
Yuko-sensei ゆうこせんせい