This entire page is dedicated to helping you to learn Japanese Katakana. Once you develop bad habits, it is very hard to shake them off so I will instruct you how to write each Katakana accurately.
You can also receive a Katakana chart and practice sheets in your mailbox by providing your email address below.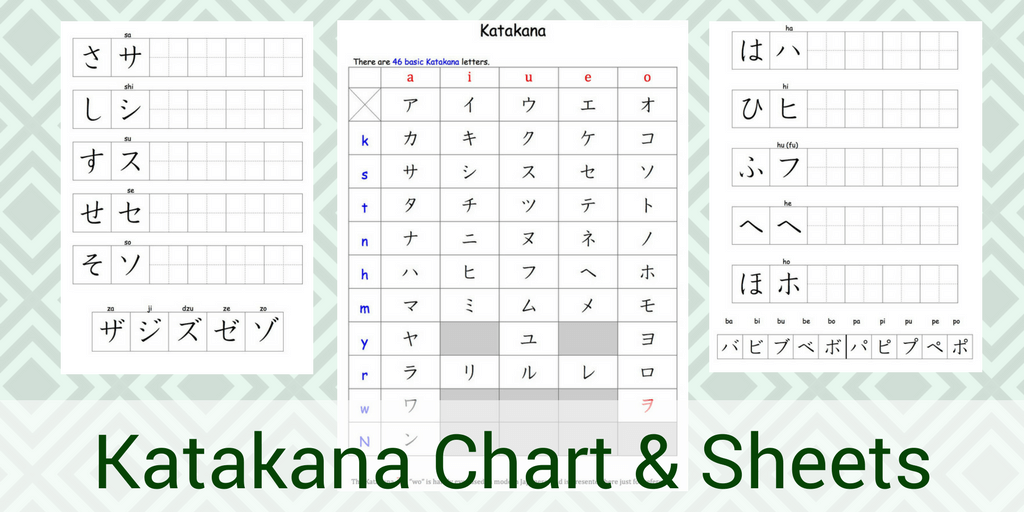 Are Hiragana & Katakana different?
You may have wondered why there are Hiragana and Katakana in Japanese. Both are phonetic letters (they tell you how to pronounce the word) but why do we need two sets of letters?
The reason is this. We use Hiragana letters to spell Japanese-origin words (e.g., すし sushi) and Katakana letters to spell non-Japanese words that we imported from other languages. (e.g., コーヒー coffee)
Hiragana – for spelling Japanese-origin words
Katakana – for spelling non-Japanese words (loan words)
So, unless you have a Japanese name, you have to write your name in Katakana letters. If you want to find out how to spell your name in Katakana, try this website: Japanese Name Converter
Pay Attention to the 3 Tips
Just like Hiragana letters, each stroke of Katakana has one of the following tips (endings): Stop (tome), Brush-up (hane) and Release (harai).

This has resulted from the custom of writing with a brush in old days. In the Katakana videos below, I indicate what ending you need for each stroke. I encourage you to follow the instruction so you'll get used to writing Katakana with correct stroke endings.
Let's Learn Japanese Katakana!
Below are Katakana lessons in the order of the Katakana chart. There are 45 basic Katakana letters.
NOTE: Katakana ヲ (wo) is no longer used in modern Japanese, so I didn't include it in the lessons.
1. Katakana a, i, u, e, o, n
2. Katakana ka, ki, ku, ke, ko
3. Katakana sa, shi, su, se, so
4. Katakana ta, chi, tsu, te, to
5. Katakana na, ni, nu, ne, no
6. Katakana ha, hi, fu, he, ho
7. Katakana ma, mi, mu, me, mo
8. Katakana ya, yu, yo & wa
9. Katakana ra, ri, ru, re, ro
Read Japanese Katakana Words
I hope this entire post helped you learn how to write Japanese Katakana!
Once you feel comfortable with all the 45 Katakana letters, go to this Katakana reading practice page to improve your reading skills.
Leave me comments below if you have any questions. では、また!
裕子先生(ゆうこせんせい)Yuko sensei