Today I want to talk about how to memorize Japanese vocabulary since I get the question a lot.
Let's face the fact, there is no quick and easy way to memorize new words in any language. It heavily depends on your efforts and repetition.
Having said that, I know a few methods that worked for my students. I also want to share what worked for me when I was learning English. Read through and see what would work for you to memorize Japanese vocabulary.
1. Use Flashcards with a Binder Ring
---
Many years ago, I was a learner of English. Like any other language learners, I struggled with memorizing new vocabulary. Back then when I was in high school, there was no such thing as apps on a smartphone. So I had to buy blank "tango cho" (word cards) like below, create my own flash cards, and flipped them as I waited for a bus or while on the bus. 
You can still find them in stationary shops in Japan or on Amazon, if interested.
 Surprisingly, it worked well for me for the following reasons:
I could use my spare time efficiently.

Everything was written in my familiar handwriting, which helped to remember words visually.

Once I take off the ring, I could spread all the cards and play a little "Pelmanism" (memory) game.
2. Make YOUR Vocabulary List
---
In this internet era where useful learning tools are mostly online, I still believe in the effectiveness of using your own hand to write down new words. The motion of your hand enhances the retention of the word in your brain.
I normally suggest my students do the same. I encourage them to create their own vocabulary list as they learn a new word, and it has proven to be quite effective for many of them.
It is effective for the following reasons:
Everything is written in your own familiar handwriting, which helps to remember words visually.

You can categorize vocabulary into groups as you like.

Your hand activities have a direct impact on your brain, which enhances memorization.

You can view the history of your learning at a glance.
I have a blank vocabulary sheet that you can print out and use to make your own vocabulary list. When reading things online, watching anime, or chatting with your Japanese friends, make it a habit to add any new words to the list. The point here is to write them down so that they won't slip out of your mind.
Please let me know where I can send you the vocabulary sheet.
The below image is the vocabulary sheet. This is just an example as to how you can use it.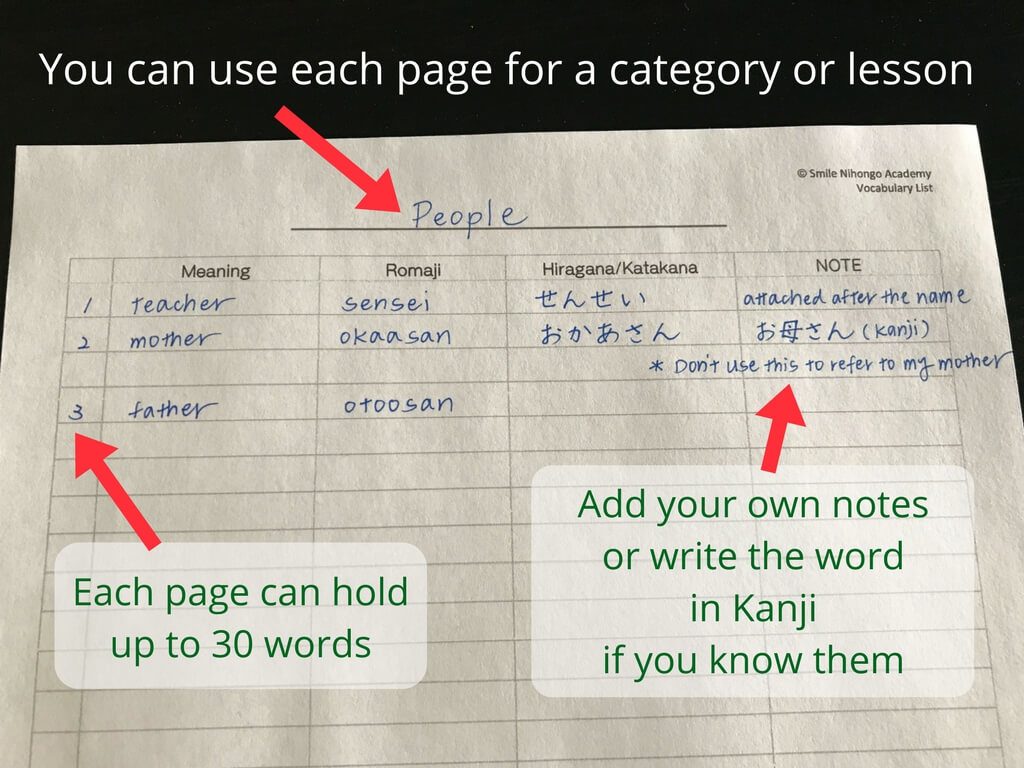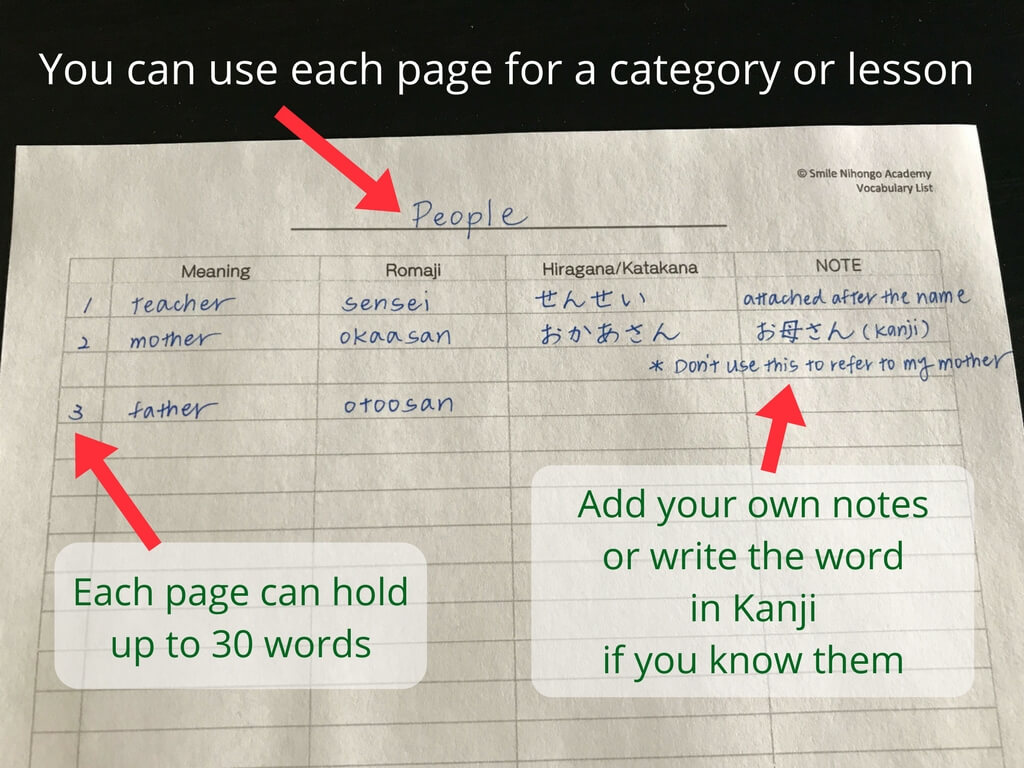 In no time, you will have a long list of Japanese vocabulary that you have built on your own.
3. Use Online Apps
---
Nowadays, there are tons of useful tools like vocabulary apps you can download on your mobile devices. These are apps that many of my friends found useful.
Memrise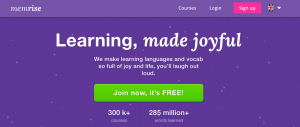 Memrise is a free learning platform that covers 25 languages. Japanese is one of them. You can use Memrise as a website on your computer or iOS and Android apps.
There is a Pro version that provides extra features that are not available for a free subscription. The program is based on the science of memory and forgetting. It helps language learners with memory retention of new letters/words.
Anki

Anki (あんき or 暗記) is a Japanese word meaning "memorization." It's an online flashcard software that helps you with memorization.
The website version and Android app are free but the iOS app is not free as of July 2017.
AnkiWeb – Website version, Free
AnkiDroid – For Android, Free
AnkiMobile – For iOS (iPhone, iPod, and iPad) $24.99
Memorize Japanese Vocabulary
---
Vocabulary building is a big part of language learning and it is crucial to find a way that works for you. It's also important to use the vocabulary you have memorized in actual sentences.
I hope this post was helpful to find a useful method for you to memorize Japanese vocabulary. If you have your own way to build vocabulary, I would love to hear! Share them down below in the comment area.
Happy Learning!
Yuko-sensei