Konnichiwa! Let's learn how to write Japanese Hiragana H Group today- は、ひ、ふ、へ、ほ.
Read this post first, How to Write Japanese Letters if you are not familiar with the basic rules of hand-writing Japanese letters.
You can access the previous Hiragana lessons here. I strongly recommend you to master Hiragana according to the Hiragana chart.
Here is the video for how to write Japanese Hiragana H Group. Let's learn how to write the letters Ha, Hi, Hu, He Ho accurately and beautifully!
---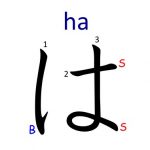 は has three strokes.
This letter has a loop at the end of stroke #3 just like the letter な that we learned in the previous lesson. Make sure to keep the loop flat like an almond laying on the floor.
Do not add a wavy ending to stroke #3 as I explained in the video. This is the bad habit that my students tend to develop somehow. Once the tip of #3 hits the bottom line, you have to stop the pen.
---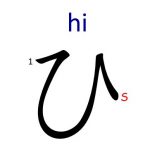 ひ has only one stroke.
This letter is not standing straight up. It is leaning to the right.
Make the round balloon-looking curve go deep enough. As I showed in the video, if the curvy part is too shallow, your ひ looks not right. When I learned this letter first time, it looked like a smiley face to me. So I remembered this letter as "ひ as in he he he." lol… It may help you too, to remember the shape of ひ.
---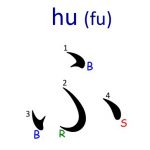 ふ has four strokes, and this letter is a bit tricky to balance.
The key to writing this letter correctly is to align stroke #1 and #2 in the center line. Be sure to keep stroke #3 and #4 above the bottom line. Do not let them drop underneath the line.
As I explained in the video, you may see stroke #3 and #4 completely connected into one stroke in some printed fonts of this letter. Be careful not to copy that form when you are handwriting ふ.
---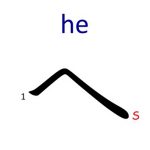 へ has only one stroke and as you can see, it's a very simple letter to write.
Basically, you are going to write something looking like a summit.
It is just that the second part coming down is twice longer than the first part that goes up.
I would say へ is one of the easiest Hiragana letters out of 46 letters.
---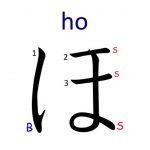 ほ has four strokes.
You see that this letter is very similar to は, right? The only differences are that after the first stroke, you have to draw two horizontal lines instead of one and the next vertical line does NOT stick out like は.
Many of my students get confused between は and ほ, so please be careful.
Just like Hiragana は, keep the ending loop flat and do not make it too tall.
---
Can You Read These Words? 
I hope this lesson helped you learn how to write Japanese Hiragana Ha, Hi, Hu, He, Ho はひふへほ.
You have already learned 31 Hiragana letters out of 46. You're doing great! Now, let's see if you read the Hiragana words listed here. The answers are given down below at the end of this post.
せいふく
へとへと
えはがき
ほうかご
おとこのひと
A Hiragana chart and practice sheets are available for your self-study. If you haven't downloaded them yet, provide your name (nickname is fine) and email address in the form below. I will send them right out your way!
Feel free to leave any comment or questions below.
Happy learning!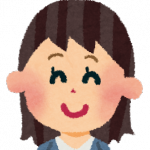 裕子先生(ゆうこせんせい) Yuko-sensei
Answers:
SE I HU KU "uniform"

HE TO HE TO "exhausted"

E HA GA KI "picture postcard"

HO U KA GO "after school"

O TO KO NO HI TO "male person = man"