I would like to share with you about my ふるさと "furusato" (hometown). I grew up in a city called KAGOSHIMA city, Japan. KAGOSHIMA is located in the southern tip of Kyushu.
Many of you may know that Tokyo used to be called "Edo" during the samurai period. My hometown, on the other hand, used to be called "Satsuma."
Do you know what Satsuma means in the Pacific Northwest area that I live in the U.S.? It's the name of tangerine!! I remember I was so surprised to see the sign saying Satsuma in a grocery store! It is understandable, though, since very small-sized tangerines named "SAKURAJIMA komikan" grow in my hometown.
Sakurajima Volcano in Kagoshima
---
Mt. Sakurajima is a famous volcano in Kagoshima that is still active and erupting. Its elevation is 1,117m (3,665 ft) and is only a few kilometers away from Kagoshima city with of 680,000 residents. It literally is right there and watching over the city.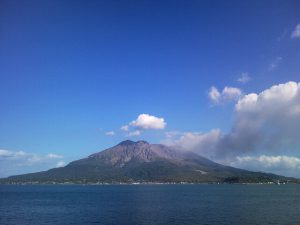 When Mt. Sakurajima is in a bad mood, he erupts and spits lots of ash. When he is in a good mood, however, he sits there with such a great atmosphere and simply magnificent and beautiful. Going back to Japan and looking at Mt. Sakurajima always makes me feel that I am finally home.
You may be wondering why it is called Sakura (cherry blossom) + jima (island). Mt. Sakurajima used to be an island floating in the Kinko Bay until 1941 when the lava flows from the huge eruption has connected the island with the Osumi Peninsula, Kagoshima. So, the "island" part is understood, but why the word "cherry blossom," right?
The origin of its name is unknown. Some say it is because a Goddess named "Konohana Sakuya Hime" was deified at a shrine in Sakurajima island. People started calling the island "Sakuya jima" (An island where the Goddess Sakuya is) and it gradually changed over to "Sakura jima."
I like the explanation my grandmother gave me, though. She said it is due to the color of Mt. Sakurajima at the sunset time. On a clear sunny day, the mountain turns its color to sakura color (pale pink) as the sun sets and that's why people call it cherry blossom island.
Traditional and Friendly People
---
Things in my hometown, KAGOSHIMA, are a little different from places like Tokyo or Osaka. People are more friendly and traditional.
Elementary school children do not take trains or subways to go to school, but they walk. It is still a strong custom that all the kids in the area gather in the morning and walk to school together as older kids are looking after the younger ones. Elderly people speak strong Kagoshima dialect that people in Tokyo wouldn't understand. (I sometimes have a hard time understanding too… lol)
Hot Springs are Everywhere
---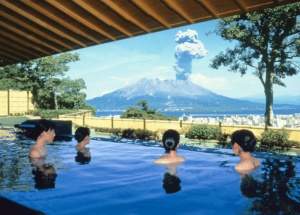 Thanks to the volcano Mt. Sakurajima, ONSEN (hot spring) are literally EVERYWHERE and deeply part of people's everyday life in Kagoshima.
People in Tokyo would have to plan a trip to go enjoy ONSEN. To us in Kagoshima city, ONSEN is something we enjoy in a public bath house in our neighborhood for $3.
At Shiroyama Kanko Hotel located in the middle of Kagoshima city, you can enjoy natural hot spring at an observatory bathroom with a great view.
Don't Forget Kagoshima Food!
---
Kagoshima is blessed with fresh vegetables, fruits, and high quality of meat because of its vast nature. Kagoshima wagyu beef and Kagoshima black pork are especially popular nationwide.
If you are a RAMEN lover, you must try Kagoshima's famous Tonkotsu ramen!
How to Get to Kagoshima city Japan
---
The most convenient way to get to Kagoshima city is by Shinkansen (Bullet Train) although it is not the fastest way. The fastest, of course, is by airplane but you will then have to take an express bus to come to the center of the city. By Shinkansen, on the other hand, you can travel from Tokyo directly to the center of Kagoshima city.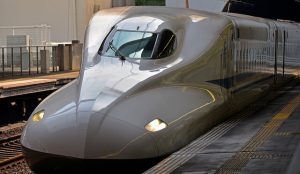 At Tokyo – Take Shinkansen NOZOMI (300 min)
At Hakata – Transit to Shinkansen SAKURA (95 min)
Arrive at Kagoshima Chuo Station
If you leave Tokyo at 9:00 AM, you will probably arrive in Kagoshima Chuo (Central) Station at 4:00 PM. The entire fee is about 16,500 yen for one way.
Hope you enjoyed reading about my hometown, Kagoshima city Japan and have one day a chance to visit the beautiful city. It truly is full of stunning nature and unique culture!