Months in Japanese is a little confusing. There are three ways to say month which are がつ Gatsu, つき Tsuki, and かげつ Kagetsu. The difference is as follows.
がつ (月 in Kanji) Gatsu … for the name of each month (January, February, etc.)
つき (月 in Kanji) Tsuki … for counting months with traditional Japanese numbers
かげつ (か月 or ヶ月 using Kanji) Kagetsu … for counting months with Chinese numbers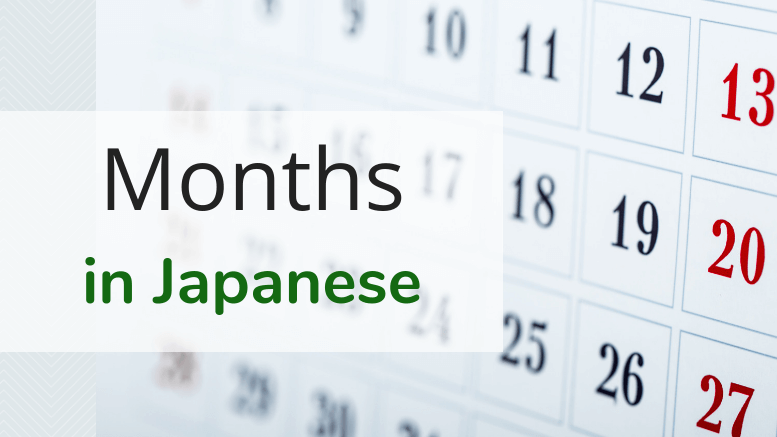 Name of Months in Japanese
Unlike English where each month has a specific name assigned, we use numbers いち (ichi) に (ni) さん (san) し (shi) to name months in Japanese.
January 1月 – いちがつ Ichi gatsu
February 2月 – にがつ Ni gatsu
March 3月 – さんがつ San gatsu
April 4月 – しがつ Shi gatsu (Not Yon gatsu)
May 5月 – ごがつ Go gatsu
June 6月 – ろくがつ Roku gatsu
July 7月 – しちがつ Shichi gatsu (Not Nana gatsu)
August 8月 – はちがつ Hachi gatsu
September 9月 – くがつ Ku gatsu (Not Kyuu gatsu)
October 10月 – じゅうがつ Juu gatsu
November 11月 – じゅういちがつ Juuichi gatsu
December 12月 – じゅうにがつ Juuni gatsu
Just be careful with April, July, and September since we have two ways to say four, seven and nine in Japanese.
Counting Months in Japanese
When you simply count months as in one month, two months, or three months, you can either use つき (Tsuki) or かげつ (Kagetsu).
The literal meaning of つき (Tsuki) is "moon." It takes traditional Japanese numbers, and we count up to three months with つき (Tsuki) in modern Japanese.
One month ひと月(ひとつき Hito tsuki)
Two months ふた月(ふたつき Futa tsuki)
Three months み月(みつき Mi tsuki)
かげつ (Kagetsu) takes Chinese numbers, and you can count as many months as you want with this one.
One month 1か月(いっかげつ Ikkagetsu)
Two months 2か月(にかげつ Ni kagetsu)
Three months 3か月(さんかげつ San kagetsu)
Seventeen months 17か月(じゅうななかげつ Juunana kagetsu)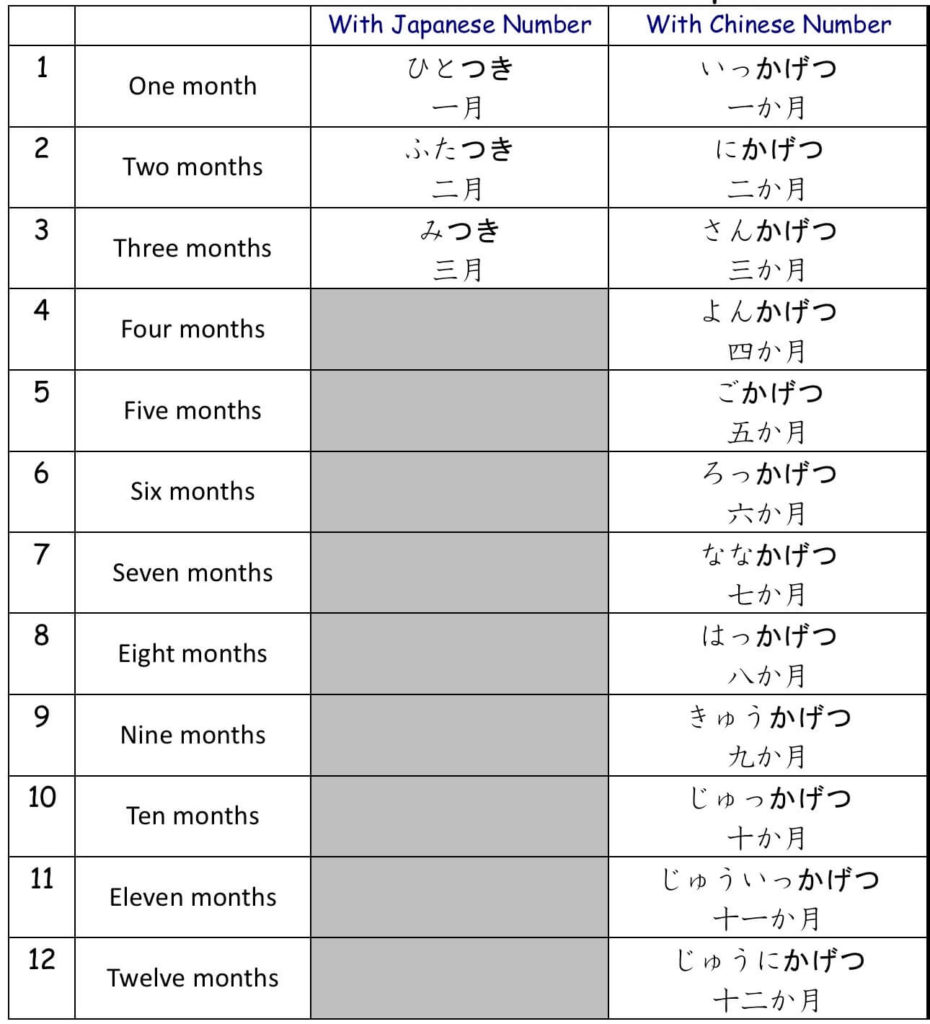 How are they different? つき vs. かげつ
You can use either one when you want to mention the duration of time as in "for one month" in your sentence. It is your personal preference.
Example: I stayed in Japan for one month.
日本にひと月いました。Nihon ni hito tsuki imashita.
日本に1か月いました。 Nihon ni ikkagetsu imashita.
Please note that you don't mark the duration of time with the Time Marker に NI, which is used to mark a point of time such as "AT 5:00" or "ON Sunday."
So this is wrong.
日本にひと月にいました。Nihon ni hito tsuki NI imashita.
When you use months to indicate the age of a baby, you use かげつ (Kagetsu).
Example: My son is now five months old.
むすこは今、5か月です。Musuko wa ima gokagetsu desu.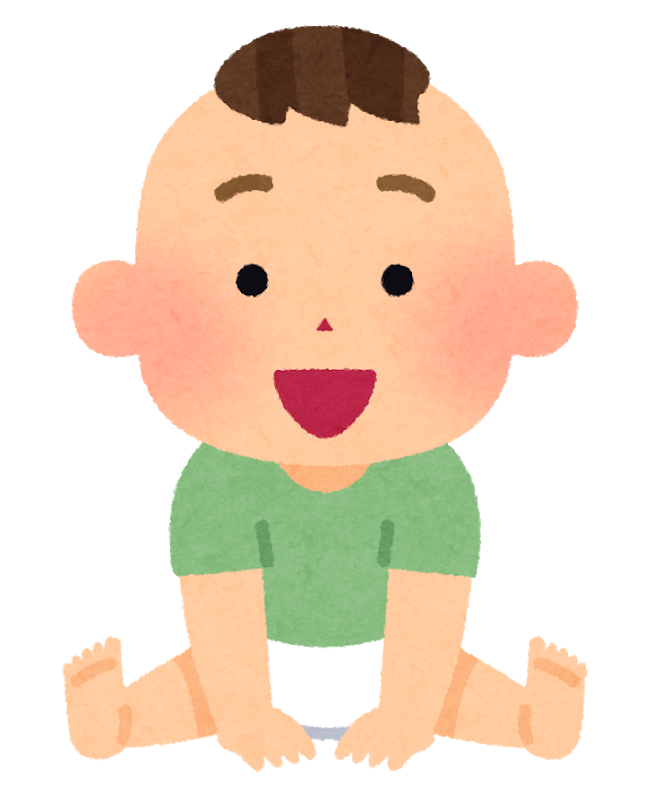 Download the Chart – Japanese Months
I have the chart for Japanese months (PDF) that I created in Romaji, Hiragana, and Kanji. Provide your name and email address below. I will send it to you right away.