Can you count Japanese numbers 1 to 100? In this blog, I'll walk you through how to read Japanese numbers step-by-step, up to 100.
First off, you may want to download the Number Chart below before proceeding with the lesson. I prepared the chart both in Hiragana and Romaji, so don't worry even if you cannot read Hiragana yet. After you get the chart, please come back to this lesson.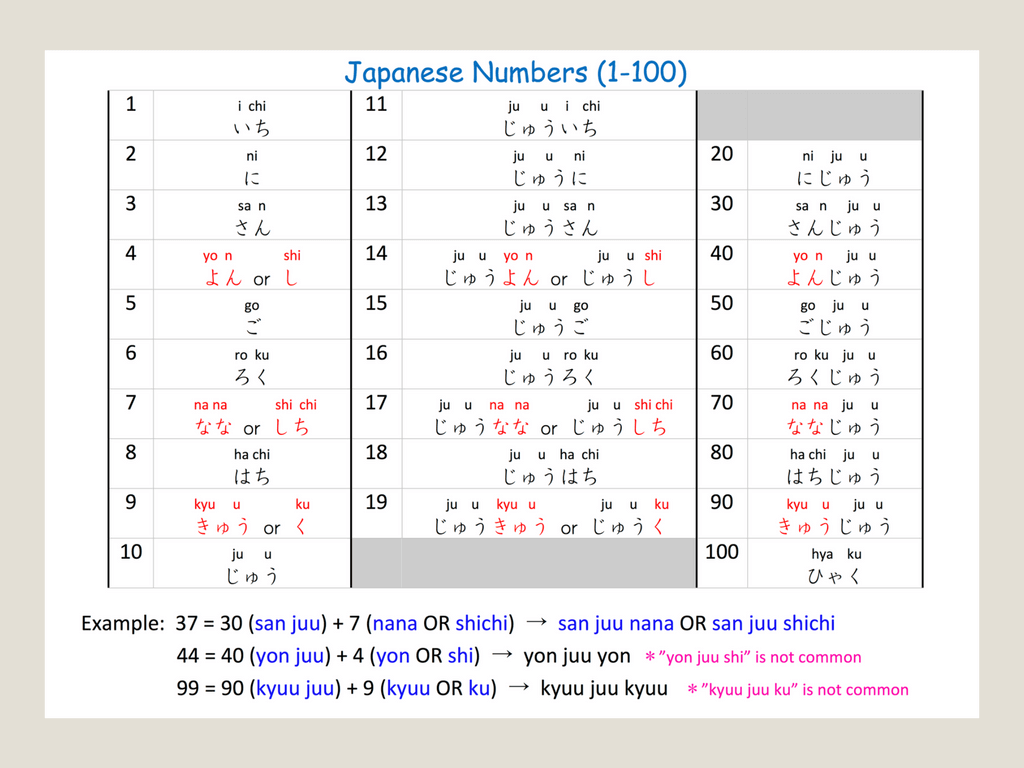 Let me know where I need to send the chart.
Japanese Numbers 1 to 100
---
The video below explains up to 99 in Japanese (7 minutes). You can also hear how I pronounce those numbers, so be sure to watch the video as you refer to the number chart you've downloaded.
Below I share the same content as in the lesson video. At the end, I briefly explain how to say 100.
Number 1 to 10
---
Let's start with numbers 1 to 10 first. See below. As you may notice, we have two ways to say four, seven and nine in Japanese.
When you are simply counting numbers, it doesn't matter which way to pick to say four, seven and nine. It is totally up to the person's preference. Me personally, I tend to say count numbers like this.
ichi – ni – san – shi – go – roku – nana – hachi – kyuu – juu
But again, you can go either way as you like.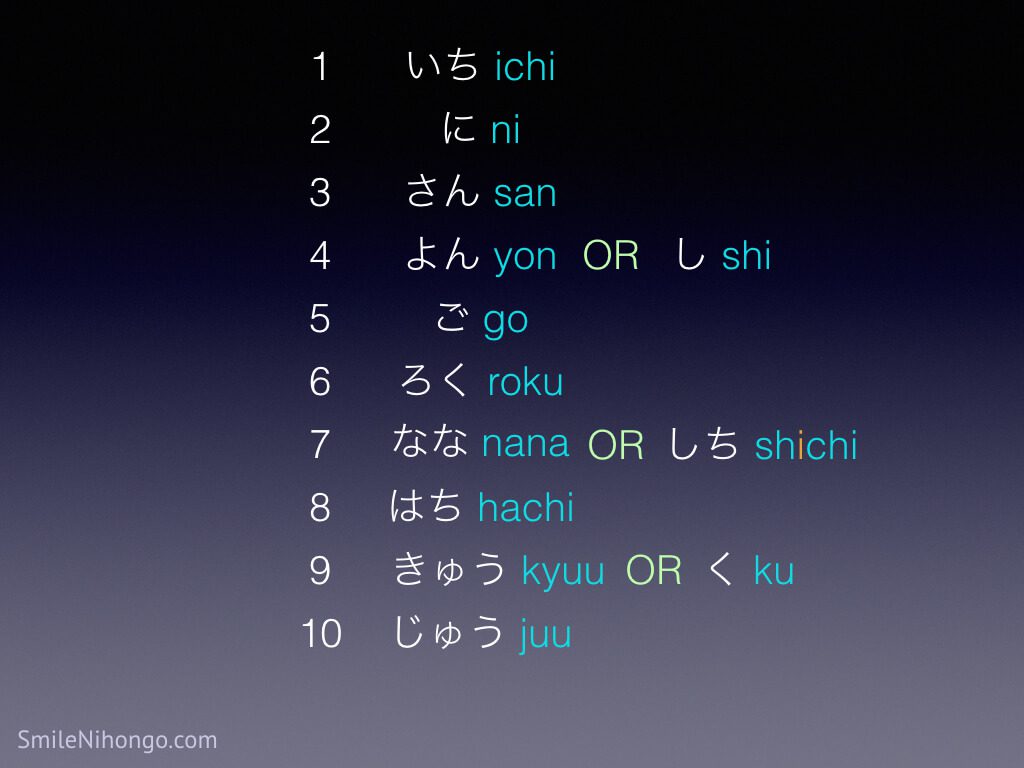 Number 11 to 19
---
Now, let's learn how to read Japanese numbers from 11 to 19.
We see number 11 as 10 plus 1, 12 as 10 plus 2, 13 as 10 plus 3 and it goes on like that.
So, how do you pronounce 11 in Japanese? 11 is ten plus one, so you have to combine juu (ten) and ichi (one) and say juu ichi for eleven.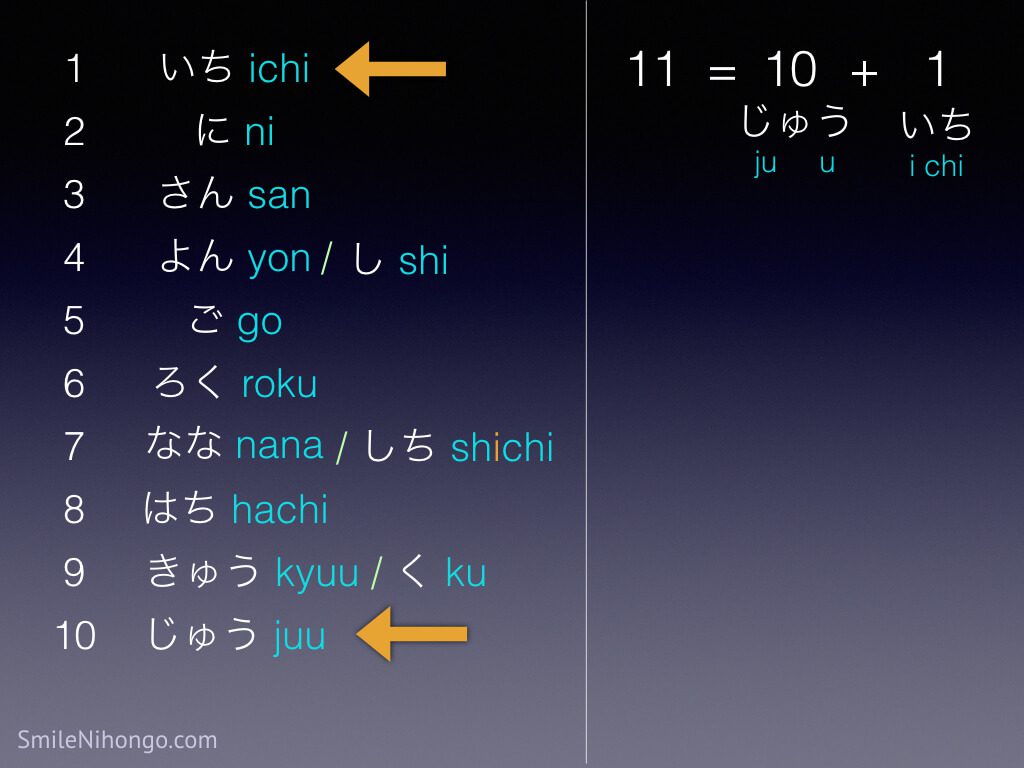 You do the same from 12 to 19.
12 = juu ni
13 = juu san
14 = juu yon OR juu shi
15 = juu go
16 = juu roku
17 = juu nana OR juu shichi
18 = juu hachi
19 = juu kyuu OR juu ku
Number 20 to 90
---
Now, let's proceed to Japanese numbers from 20 to 90.
We see number 20 as 2 of 10, 30 as 3 of 10, 40 as 4 of 10 and it goes on like that. So, 20 is pronounced ni (two) and juu (ten) in Japanese.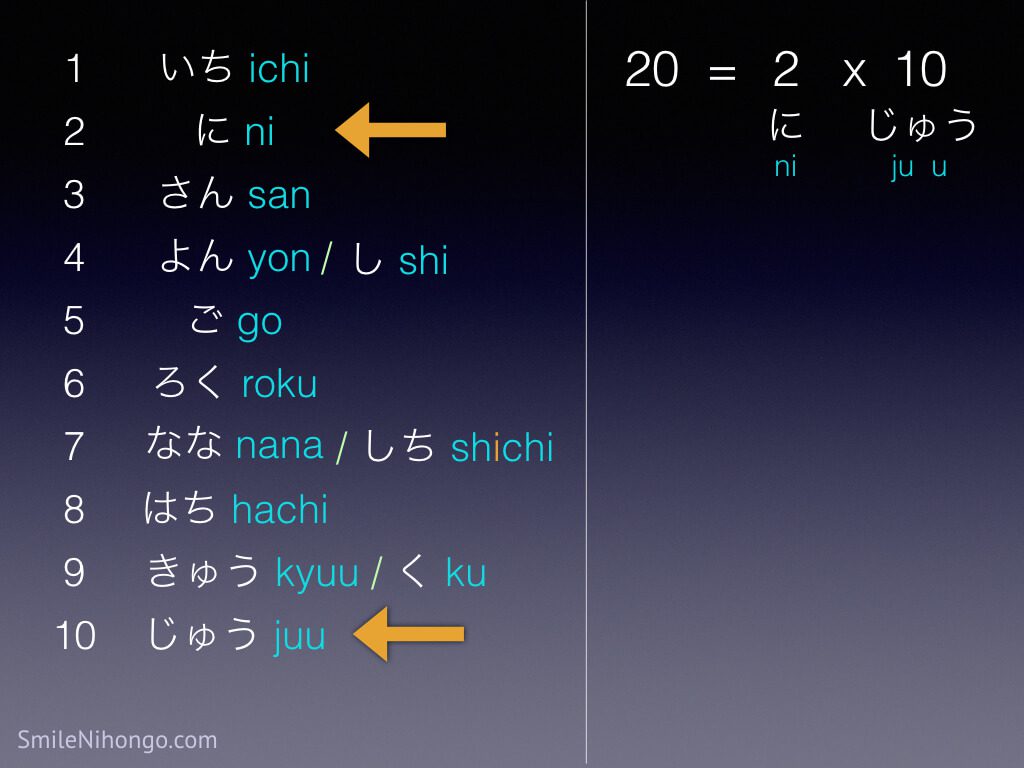 You do the same from 30 to 90. Just be careful with 40, 70, and 90 since there are two ways to say 4, 7, and 9 in Japanese. Although you may hear some people pronounce 40 shi juu and 70 shichi juu, they are not common, so I'm going to stick to yon juu (40) and nana juu (70) in this lesson. As for 90, kyuu juu is the only way and ku juu does not exist.
30 = san juu
40 =

yon

 juu
50 = go juu
60 = roku juu
70 =

nana

 juu
80 = hachi juu
90 =

kyuu

 juu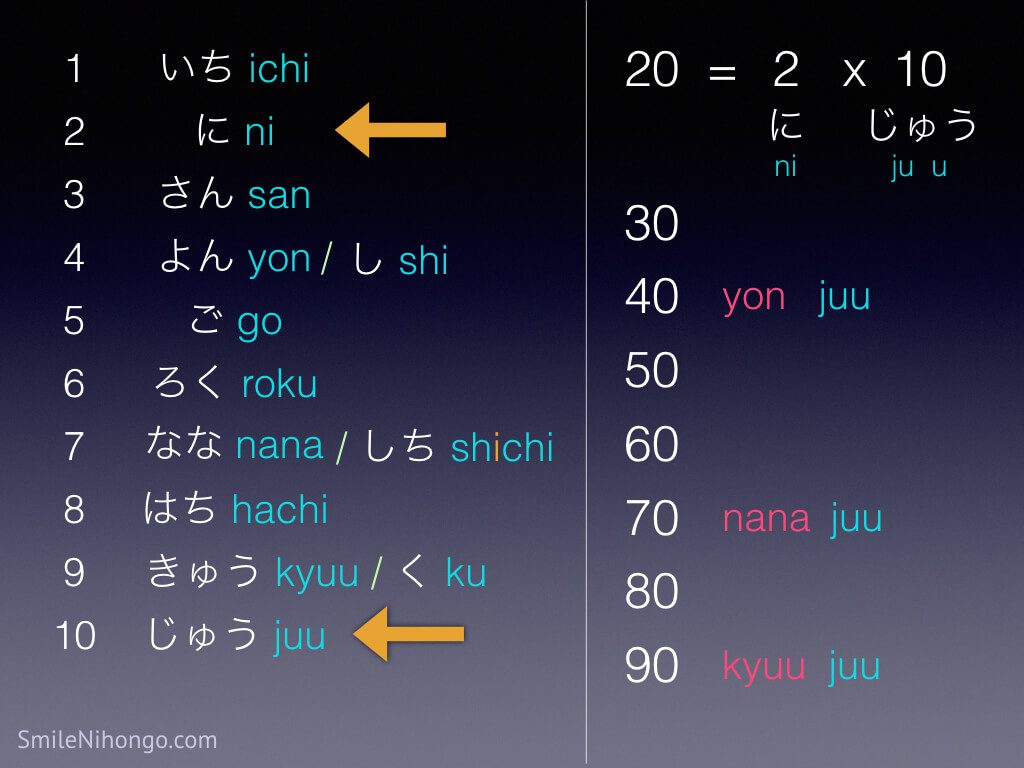 Number 100
---
As you see in the chart you've downloaded, we say ひゃく (Hya-ku) for 100.
The pronunciation of "hya" can be a bit tricky. My students always have trouble with the pronouncing of 100 when I introduce Japanese numbers 1 to 100. My advice is to think the pronunciation of 100 as a combination of two sounds – "hi" (hee) and "ya" (yeah). Start pronouncing the two sounds separately as hee-yeah, hee-yeah, gradually contract the two, and in the end, pronounce them together – hya.
Were you able to pronounce the number 100? I hope so!
Another thing I want you to remember is that in Japanese, we don't say ONE hundred (ICHI hyaku). We only say hundred (hyaku) for 100.
So, when you pronounce 150, for instance, you need to say hundred fifty and not ONE hundred fifty.
150 = hyaku go juu  (It's not ICHI hyaku go juu)
Can You Read Japanese Numbers?
---
Now that you know Japanese numbers up to 100, I believe you can figure out how to pronounce a number like 75. How do you think we say 75 in Japanese?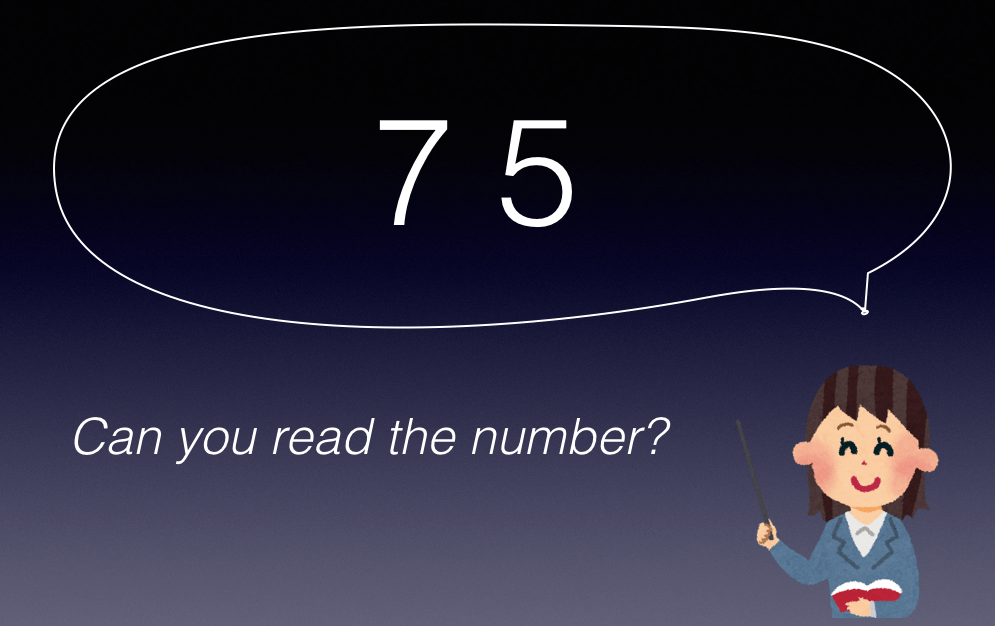 As we have learned, 70 is nana juu, and five is go. Therefore, 75 is nana juu go in Japanese.
Try for yourself if you can pronounce the following numbers in Japanese. I'll post the answers at the end of this article. 🙂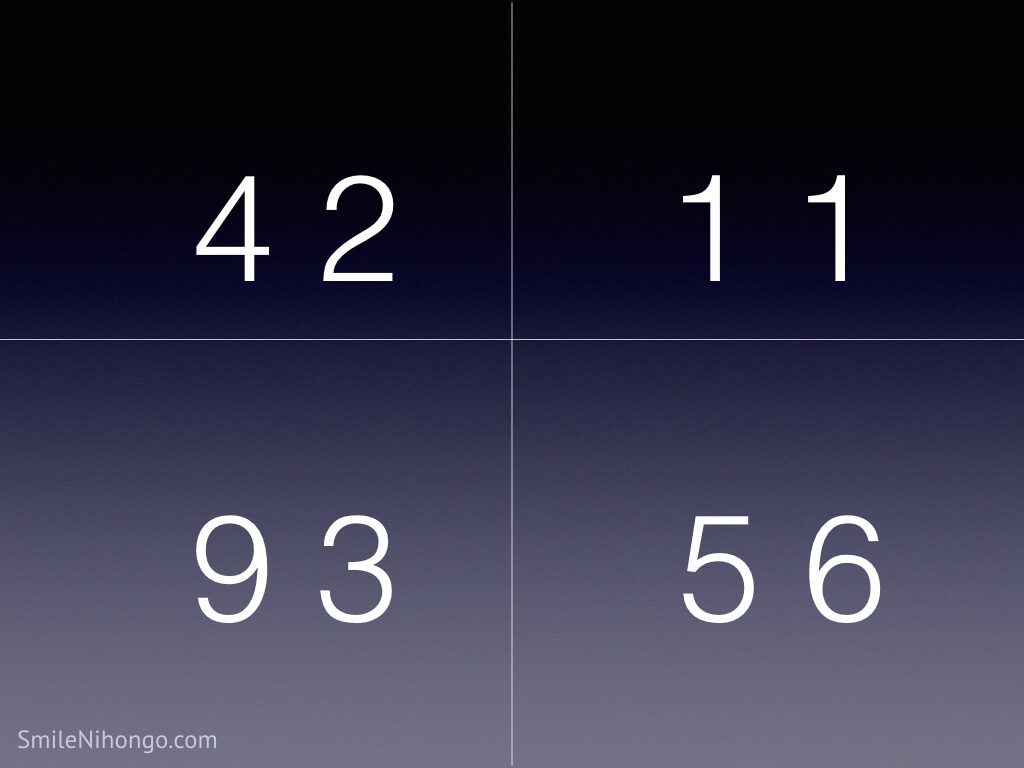 How was this lesson about Japanese numbers 1 to 100? I hope it helped you understand Japanese numbers better.
Leave me any comments or questions if you need more clarification. Happy learning!
Yuko-sensei 裕子先生(ゆうこせんせい)


Answers:
42 yon juu ni
11 juu ichi
93 kyuu juu san
56 go juu roku